In our latest real estate tech entrepreneur interview, we're speaking with Luke Tomaszewski from ProxyPics.
Without further ado…
What do you do?
I am the founder and CEO of ProxyPics. I also own an appraisal management company in Chicago, eValuationZone.
What problem does your product/service solve?
ProxyPics allows users to request photos of specific locations, to be completed by other users in the area. We are eliminating the issue of agents, appraisers, etc. having to drive miles for a photo that can be taken by someone who is already in the area. So much time is wasted in traffic to take a photo. Why not give someone the opportunity to make some extra cash and have them take it for you? ProxyPics also gives users in the area an opportunity to make very easy money, who doesn't want easy money?
What are you most excited about right now?
I am most excited about launching our new update that will allow users to complete exterior assignments specifically for real estate. These assignments will offer more money. The users will have to go through a simple process to be able to complete these special assignments. A simple questionnaire will be available for them to complete regarding the condition of the property.
The efficiency will definitely benefit appraisers and the real estate industry as a whole.
What's next for you?
We have seen a lot of interest in Spain and Australia for ProxyPics. I would love to be able to take ProxyPics globally when the time is right. I've said before, there are no limits to Proxy Pics. A teacher lecturing about one of the wonders of the world can request a photo and receive it within a matter of minutes to show to the classroom. The possibilities are endless.
What's a cause you're passionate about and why?
We are really involved with a no kill shelter, PAWS, in Chicago. We were a sponsor at their 5K this year and really got to see the amazing work they do. We are all animal lovers here and just appreciate all the hard work they do to find these animals the best homes.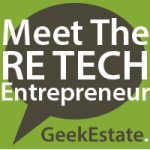 Thanks to Luke for sharing his story. If you'd like to connect, find him on LinkedIn here.
We're constantly looking for great real estate tech entrepreneurs to feature. If that's you, please read this post — then drop me a line (drew @ geekestatelabs dot com).
The post Meet the Real Estate Tech Founder: Luke Tomaszewski from ProxyPics appeared first on GeekEstate Blog.
from GeekEstate Blog https://ift.tt/2MIhyh9
— This Article First Appeared On GeekEstate Blog — Looking For More Awesome Real Estate Marketing Tidbits and News? Follow Cusp Creative On Twitter @cuspcreative — Stay Awesome!